'We're a steady, reliable business': The Cheesecake Shop managing director sees 'renewed vigor' post-River Capital acquisition
Ken Rosebery shares his outlook for the year and shares how they are responding to inflationary pressures.
After being sold to new owners River Capital, The Cheesecake Shop (TCS) managing director Ken Rosebery says the retail cake franchise has "renewed vigor" to establish new stores, products and execute marketing initiatives.
"We're not a whiz bang, new, high-tech software business that's going to grow hundreds [in] percent(age)...we're just a fantastically steady, reliable business that has exhibited continuing, steady growth over the years," he told QSR Media in a one-on-one interview.
The executive says they have achieved "all of the targets and expectations" set forth by previous owners PAG Asia Capital, adding that they were also able to pay down debt "quite rapidly and consistently."
"We're very attractive in terms of [being] a reliable, cash-generating business that's got reasonable growth prospects into the future and is in a very strong position within our category, a great brand name with a great reputation."
"We're excited about our new shareholders and what they can bring to the table for us," Rosebery added.
River Capital said in an announcement that the investment firm along with management have a "clear" plan to continue to grow the 220-plus store business over the coming years, including "complimentary acquisitions" that would cement "TCS' position as a market leading QSR franchise network."
Rosebery suggested there may be opportunities for the franchise to seek brand extensions or other ways they could operate, distribute and produce their cakes.
Up to 15 stores in ANZ are in the pipeline, he also confirmed.
"There's still plenty of places where we can, viably, open."
Whilst not sharing whether the brand will go beyond the two markets, Rosebery believes their value proposition could work overseas.
"From time to time, we've been approached by people in different markets overseas. It takes work though, the devil's in the details. It's not just about cake, it's about our kind of model, how it's delivered and why it works in Australia and New Zealand so well. But I think it would work in some other countries," he shared.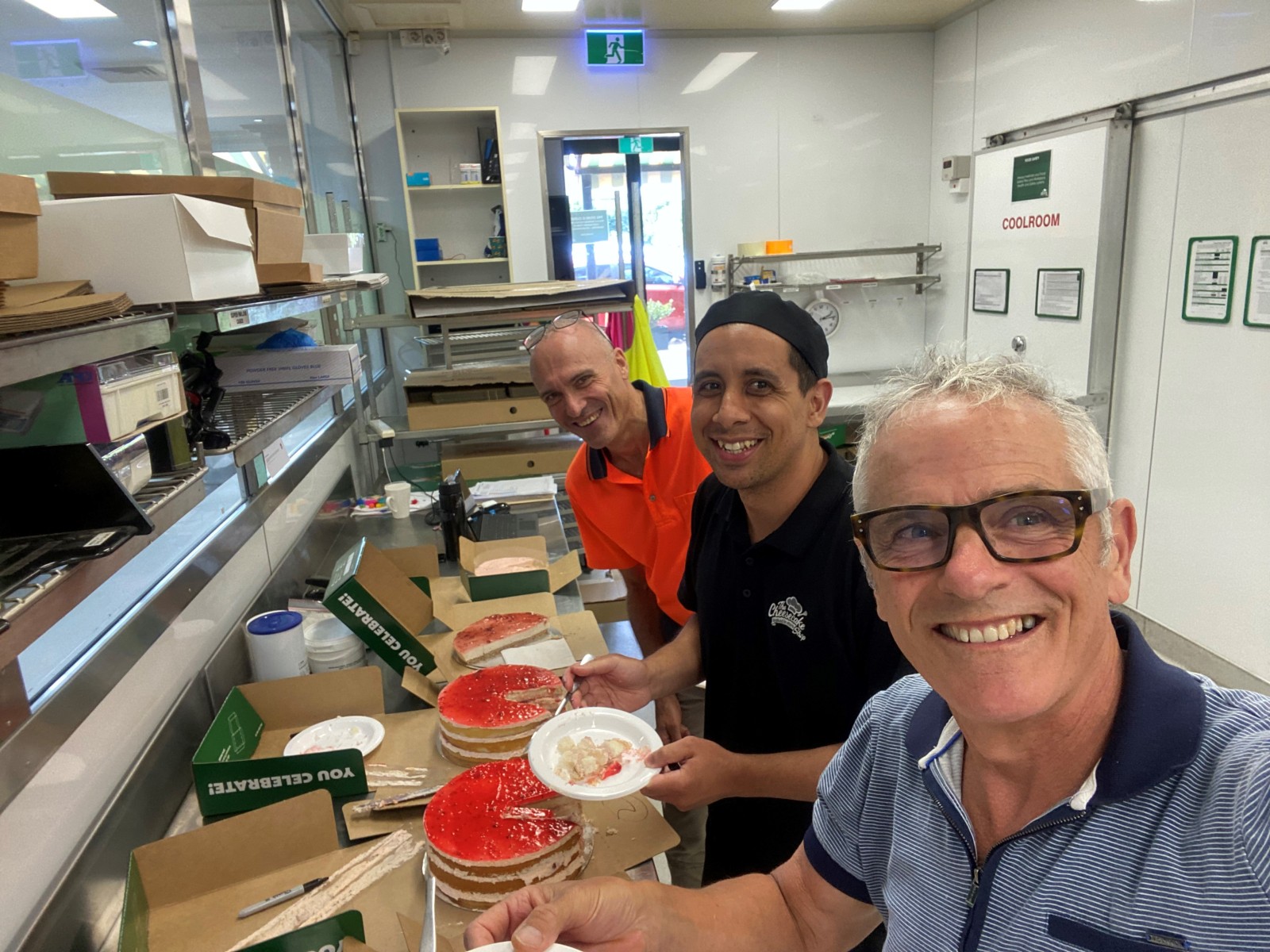 Ken Rosebery (right) in one of the chain's test kitchens. Photo: Supplied
More cake deliveries
Whilst "running in the background" at around 3 to 4% in turnover, Rosebery said he is also keen on developing its third-party delivery channel, exacerbated during the start of the COVID lockdowns.
"It's not a huge part of our business, but it's certainly incremental," he said. "I think it has potential to grow in certain demographics and areas."
"Interestingly enough, people complain about the cost of the delivery aggregators, but…the cost of doing your own deliveries is not that distant," he added.
Staying ready against pressures
Like most of the industry, Rosebery remains wary of inflationary pressures. Franchisees purchase all their ingredients from TCS' wholesale division.
"[What] we've tended to do in the last few years is combine our price rise with a kind of revamp [or] relaunch of a product. We take the opportunity to update the product in terms of its design and then that might have a small price increase that goes along with it that helps to deal with inflation. But also, we try to create additional value for the consumers as well," he explained in response to how they have been approaching increases.
"We don't shave a little bit of the size of the product to reduce our cost of goods and keep the price the same way we were done. I think that's a bit dishonest to your customers."
"It's gonna be a good year. Like all businesses, you've just got to be pretty agile and be ready to respond to what's occurring," he added.