Carl's Jr. is using menu architecture to mitigate supply chain pains
CJ's QSR Group managing director Andrew Firn also revealed plans to trial the chain's global "restaurant of the future" concept in the country.
Since the start of the year, restaurant executives have emphasized maintaining good relationships with suppliers to alleviate cost pressures affecting the QSR and fast casual restaurant industry.
The master franchisee of Carl's Jr. in Australia is no stranger to supply chain management being its biggest challenge for the year, citing the rising costs of lettuce, beef, chicken and buns as some of their biggest issues.
Expecting supply chain to be a lingering issue in the next 12 months, CJ's QSR Group managing director Andrew Firn believes they have another ingredient to assist in mitigating these factors that they can work on and maintain reasonable profitability: menu architecture.
The executive said this included changing the size of the products on the menu boards to "better reflect" their actual size and placing items they want to sell in "more predominant" places.
Items that have higher cost of goods or ones facing shortage of supply, he added, are made "smaller" on the menu, putting them in places where consumers that want them can still find it.
"When you first look at the menu board, you're attracted to the three or four items that we want to sell," he explained to QSR Media. "Unlike our competitors, many of our guests are new so they don't know the items on the menu. So it's important that we still have a wide range, but try and direct them towards items that we know we can make quickly provid[ing] good, hot, fresh products at a reasonable price."
The group is also applying the same philosophy in their drive-thru channel, responsible for 60% of their sales. For the lunch daypart, items being sold are quick to make and smaller. Dinner, on the other hand, has more premium options such as items featuring their signature Angus beef patties.
Growth still on track despite COVID slowdown
Currently, the franchisee has 35 restaurants throughout Australia, 17 of which opened since the pandemic started. Last year, CJ's QSR signed a deal with CKE Restaurants Holdings, which will see the former oversee the development of 130 restaurants, almost two-thirds of the restaurant brand's updated mission to open up to 200 restaurants over the next ten years.
Despite a COVID-forced slowdown, CJ's QSR signed a new franchisee that is opening a restaurant in Geelong as part of a multi-unit development plan for the region. Five additional restaurants have also been built, with Firn revealing they now expect to reach the 60-store mark by the end of 2023.
"We're on track," he said. "We've got several more [franchisees] going through due diligence. So rather than having us and our existing three franchisees developing…we'll have more people opening up at the same time."
Currently, they are in Queensland, New South Wales, Victoria and South Australia, with Firn adding they will enter Tasmania and the Northern Territory next year.
"We're not franchising for the sake of franchising. We're looking for skilled operators, people that can invest in either multi-units or do a joint venture with the right operator," he stressed.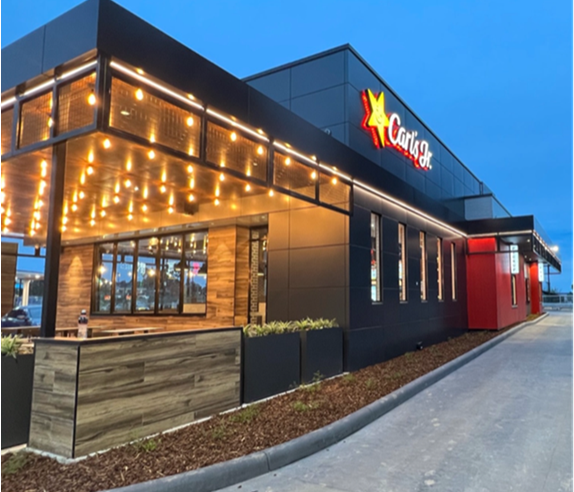 ​
Carl's Jr.'s new restaurant in Dandenong. Photo: Supplied
Future store concept for premium locations
Carl's Jr. is also looking to trial what Firn referred to as a "globally designed restaurant of the future" from the brand, which already opened one in the Middle East. The concept, he said, will feature "express lane" drive-thru, curbside pickup, and solar-powered charging stations for electric vehicles.
In May, CKE Restaurants Holdings, along with its franchise community, said it will invest half a billion U.S. dollars in overall transformations, including $60 million alone from CKE on corporate locations.
"Whether that opens in the next 12 months, probably not — maybe a little bit longer. Whether we end up with more than one, we'll see," he said, envisioning the concept in "premium" locations to complement their dual-lane drive-thru restaurant stores that are mostly in suburbs.
On the technology front, a "small amount" of self-ordering kiosks also have a part in Carl's Jr.'s response to labour costs, but Firn believes sticking to primarily a face-to-face experience, also noting that they continue to attract high quality staff.
"We want people to order from a person, we want to bring the food to your table. Yes, labor is expensive but we believe that you still want a face to face experience."
The Carl's Jr. app will also get an upgrade, with Firn revealing plans to add ordering capabilities.
"We're working on a whole IT infrastructure update to make sure that everything integrates to make both the consumers and our staff's lives easier, having less touch points," he said.
Sitting between traditional fast food and premium offerings
Asked about areas of competition within the burger segment, Firn believes the brand sits between traditional fast food and premium concepts.
"We think that we can provide a better product at a reasonable price, with speed and consistency that people expect," he added.
Firn also maintained they are in a good operating position to get through the year.
"Good operators are good operators. So whilst I think there will be some brand casualties over the next twelve months, we believe that with the structure we've got set up and the products and development plan, we are in a good position to get through whatever comes," he said.
"We're just focused on the four main things: delighting our customers every day, expanding our network, gaining quality new franchisees and providing a support office that supports new franchisees and accompanies restaurants with world class executives."