Staff Reporter
,
Australia
'We are the trend': Pretzel's founder counts on brand's ethos, cult following to puff up growth hopes
Brittany Garbutt elaborates on her vision for expanding overseas and her branding philosophy.
Pretzel, once just a small shop operating out of a sea container in Northbridge, is ready to take its artisan and unapologetically pink aesthetic overseas.
Whilst Singapore has always been part of Brittany Garbutt's list of key markets for international expansion, she first revealed to QSR Media the potential she sees in the Lion City and within the region.
"I don't think that it would be wild if there were 50 to 60 to 100 Pretzels within Southeast Asia. I think it has the capacity to do that for sure," she said in an exclusive interview.
Plans have been in place for years, but Garbutt prefers to be able to visit the country and avoid earlier situations where she wasn't able to personally visit domestic sites that opened in other states. (Indonesia was the first choice, but argued that it did not make good business sense.)
"We are now looking into some of those new sites, which were...just a little bit too pricey for our brand, or were unavailable just because...there were just no vacancies in those spaces. But with COVID shuffling everything around, we've sort of been able to reassess," she said.
"Just the way that I run my business, I'm not comfortable not being able to at least assist on the ground with the construction design in the first store...I really hope they're a little more insane. I want screaming girls...and like, more fandom. I think the Singaporean people are really fun."
Since handing over a $100,000 cheque to start her first Pretzel outlet in 2017, the artisan business, as of this writing, has since grown to eleven stores in WA and VIC.
It opened six stores in early 2020, and has plans to open two more before the end of 2021. An additional WA location in early 2022 is on the cards as well. QLD, Garbutt revealed, is also on her radar. Currently, stores produce around 900,000 pretzels a year, and could wrap up the year with about $8 million in revenue.
Locally, she prefers growing in more suburban areas and is eyeing spots in shopping centres, expecting a "new system of life" for consumers. A drive-thru model is also being explored, but Garbutt says they are still figuring out how to serve and deliver their handcrafted pretzels in under five minutes in order for it to work.
"Knowing that this is probably not the first and only pandemic we're going to have…[we are] trying to find areas that can now encompass all of your living requirements in a very small space. Because that may potentially be how we end up living," she explained.
"Traveling enormous distances to isolated buildings that don't offer much or isolated high streets that don't offer much around the clock is no longer a good way [to expand into] going forward."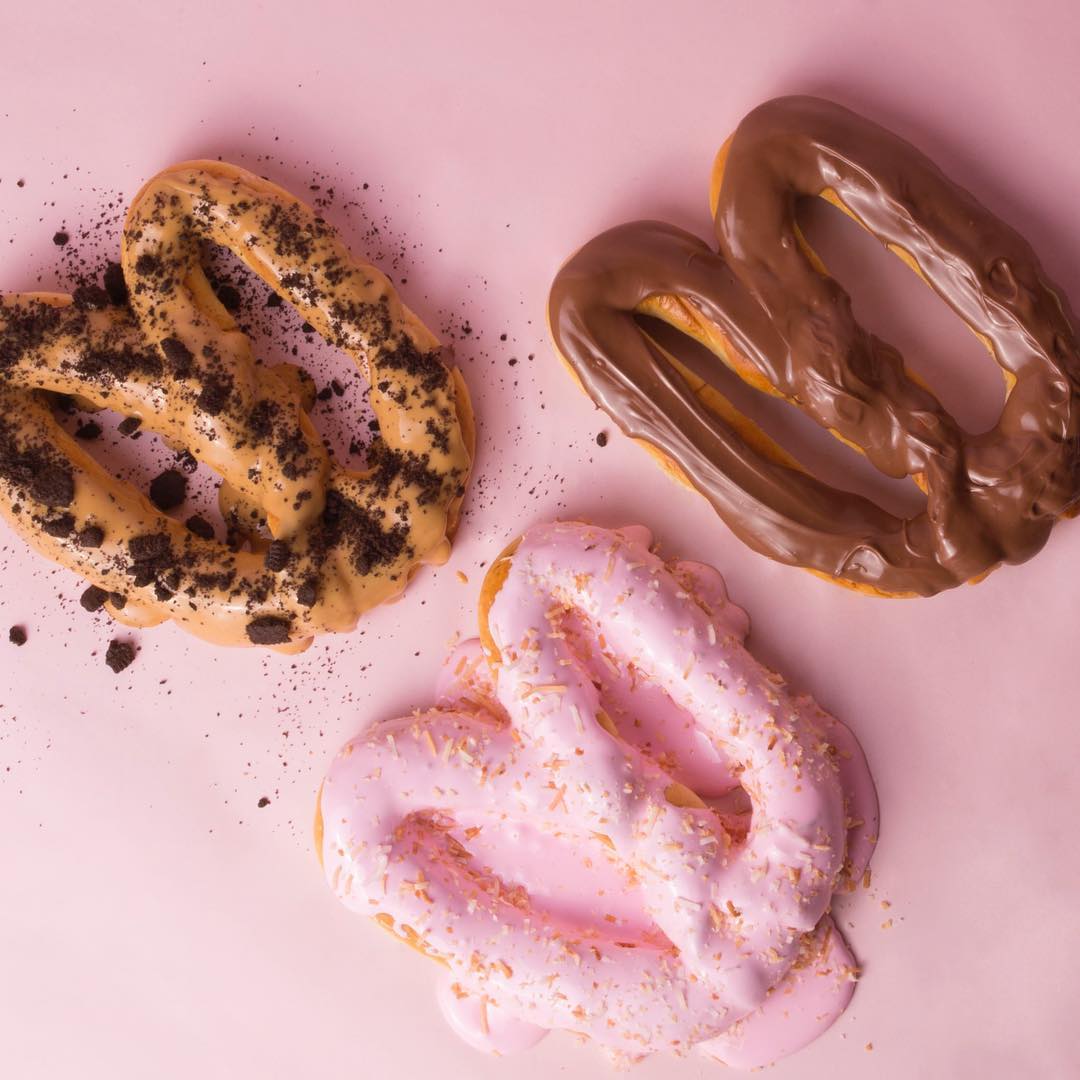 A trio of Pretzel's signature items. Photo: Supplied
Store design as self-expression
Garbutt, a brand designer by trade, believes her work on the stores' individual designs stand out amidst a competitive multi-site restaurant scene. Uniformed only by the pink colour, the sites reflect a mix of the 27-year-old's takes on pop-culture, her favorite places and musicians.
Her Knox store, for example, is based on The 1975, one of Garbutt's favorite bands. One of her newest sites, located in Karrinyup, is her take on New York's train stations, partly based on her time as a graphic designer in the Big Apple. An upcoming location in Curtin University will feature fraternity and sorority-related elements.
"Branding is like a combination of art and graphic design and photography but it's [also] psychology. It's knowing what people want and being able to give it to them," she said. "It [Pretzel] was also the first opportunity that I was given to do whatever the heck I wanted because it was the first time I was in charge."
With the exemption of their Mandurah Forum outlet (which has a laundromat theme), Garbutt also has a no-kiosk policy, banking on her stores to still encourage customers to opt for dine-in and pick-up instead of third-party delivery.
"I can't lose that. And I want that because that's the love. I think that's what sort of sets my company apart from others."
But how does Garbutt balance her free reign on what the brand looks and should feel with potential adjustments or responses to trends? She says she doesn't.
"We don't need to adjust to current trends and we don't. We are the trend, and in lots of ways, if we were to do things like that, it would just cut the brand off at its legs. The greatness of Pretzel is how genuine it is," she explained. "In order to adapt and stay on trend, we don't adapt and stay on trend - that makes us the trend."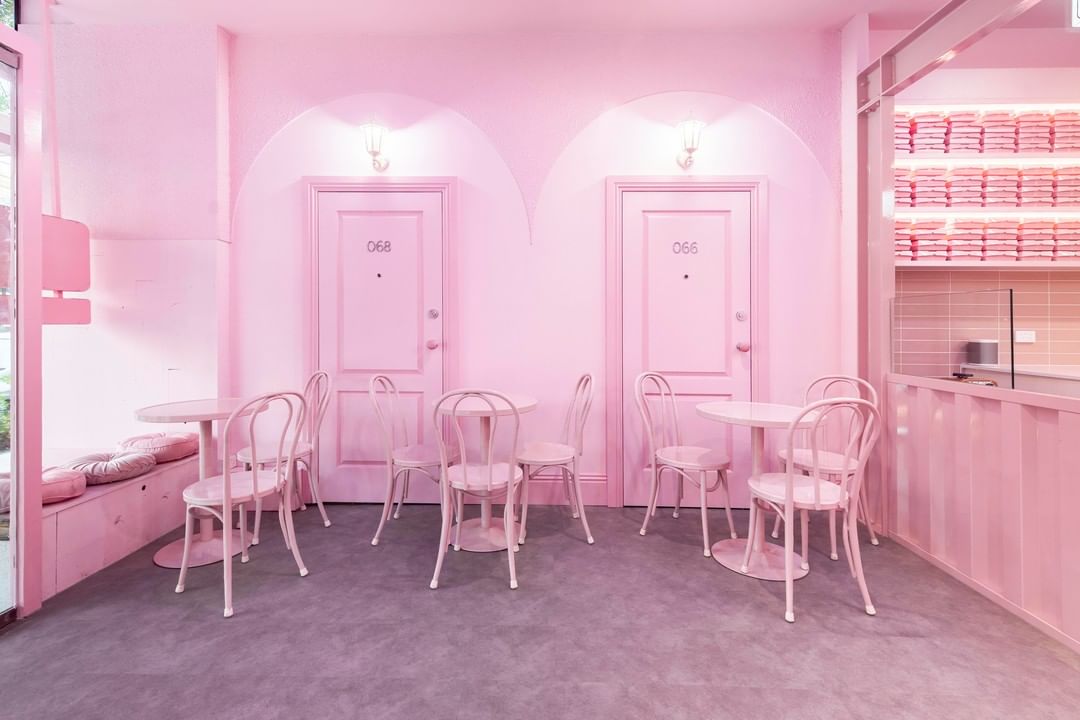 Uniformed only by the pink colour, the sites reflect a mix of Garbutt's takes on pop-culture, her favorite places and musicians.
Potential seen for other brands
Despite lockdowns and tight restrictions, Garbutt also opened two new cafes: Chubby Boy and Priestess, a sister brand for her Voodoo specialty coffee concept (the latter two are inspired by Haitian voodoo and religion). She sees potential for these three concepts to further grow in VIC.
There are also design-related "interlinking synergies" between the concepts that "pretty much only I would know about," she said.
Going forward, she says, the brands could be placed under one group.
"We're workshopping the name but it'll be the XXY group, whatever, and all my companies will start to sit under it and then we can sort of group them all together."
Garbutt is also anticipating cashless transactions as a more viable option for stores, crediting her young staff and customer base for being technologically capable, also seeing it as a safer option.
"I'm definitely happier to go along [with contactless payment(s) not only for occupational health and safety, but also just business-wise. I think it's much, much better heading in that direction," she said. "Give it five years [and] we will have forgotten what cash is."