Restaurant optimisation needs to be a focus in 2022, experts say
Thought leaders point out the challenges chains need to know in order to adapt.
To navigate and maintain growth in 2022, experts are advising quick-service and fast casual restaurants to have a general focus on optimisation: avoiding operational complexities stemming from a COVID-accelerated adoption of technologies these past years.
"Making sure that everything is optimised will distinguish the winners and the losers. Mak[e] sure that the operational flow is as seamless as it can be for the end customer. The experience the customer has ordering online should be as simple and streamlined as possible, that will be making the difference in the industry," said Jeremy Van Dille, general manager for ANZ at online ordering solutions provider Deliverect.
"Amongst more traditional customer access points, drive-thrus have also grown as a consequence of the pandemic and this shift in demand has persisted. QSRs need to be aware of this factor when launching new store types and formats, and potentially consider how existing assets can also be adapted," added Giulia Favetti, a consultant at Simon-Kucher & Partners.
For Martin Filz, CEO of data and insights business Pureprofile, maintaining growth also means responding to challenges around share of consumer spending, citing restaurants' competition with entertainment and leisure activities.
"We're going to see pressures on the wallet so I think brands need to concentrate on…maintaining that growth," he said, referring to a shared datapoint where the company recorded a 13% rise in spend per person from January 2020 to October 2021.
Other cited challenges for the new year revolve around in-store experiences, employment costs, staffing woes and pricing strategies and areas related to the delivery channel.
"I think people are excited to go back into a physical restaurant, but it is all about customer experience. You want to create an experience your customers and diners will want to share but more importantly return," Van Dille said. "But there are also many brands that [have] realised that [they] are better suited for delivery than hav(ing) a brick-and-mortar store."
"Customers will continue to include delivery in the consideration set of QSR access points; this trend has and will present great growth opportunities but also challenges if not managed appropriately," Favetti noted.
"Prices are more salient than ever with the shift of customers onto digital channels. On an aggregator platform, QSR menus, promotions and price points can be directly compared which will fuel increased competition amongst restaurants. To combat this, it is important to create a digital offer that both appeals to customers and is competitive, but also delivers acceptable financials for the QSR."
Customer engagement programs such as loyalty programs, she added, will also become increasingly prevalent, driven by this ongoing shift to digital channels.
"It is now more possible to influence behaviours during these digital purchase occasions," she said.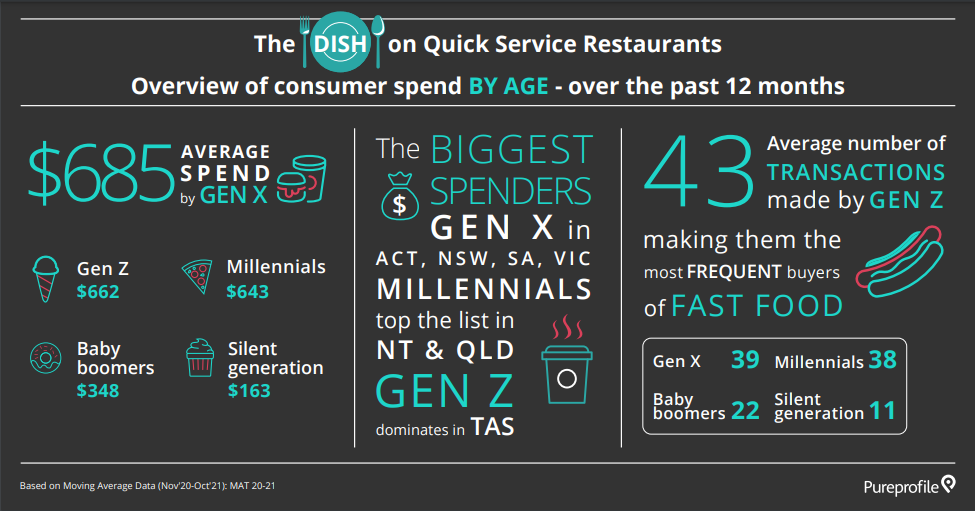 Filz, citing data that revealed customers aged 30+ spending 10% more money whilst 19-25 year olds going more frequently in QSRs, advocates for specific audience advertising.
"It's about using the right data at the right time to make the right interpretations. Brands need to really start understanding how they analyze data so that they can better understand their consumer. The data is there, let it talk to you, let it tell a story," he added.
Last year's big gainers
The three experts also offered a variety of responses on who specifically were the winners or businesses that thrived last year.
Van Dille, winners were restaurants that were able to maximize kitchen spaces, partly with investment in virtual concepts, and tech-savvy entrepreneurs that have thought of bringing their restaurant experience to delivery channels with branding and social media.
For Favetti, these were businesses that leveraged technology and data to better understand customer behaviour to develop and implement omnichannel strategies, tailored offers, supporting new and underdeveloped purchase occasions and understanding how to use third-party delivery aggregators to grow their business sustainably.
Examining food categories, Filz named pizza, chicken and burgers as the top gainers - also observing one particular brand doing better than its counterparts in each type. Categories doubled in market share, he added, potentially due to local shops or independents closing as a result of the pandemic.
Insights from the three executives were made in December, prior to the ongoing wave of the Omicron variant of COVID-19, which has resulted in staffing challenges and supply chain disruptions.
Further embracing the shift to digital
Despite ongoing uncertainty, chains are encouraged to remain agile, flexible and even deviate from plans if need be.
"The winners win by capitalising and reacting to the changing environment, and without iteration and adaptation, opportunities are forgone," Favetti said.
"Do not fear the customer shift to digital channels. instead embrace these channels as part of an omnichannel model. Very few customers use only one channel and accordingly, digital channels are not 'new' or to be 'bolted on'," she added, also stressing the need to leverage new technologies to go deeper into data in order to make evidence-based and profitable decisions.
"It's [a] time where people that want to do delivery will know exactly how it has to be done," Van Dille said. "Now we see that even the non-tech savvy restaurateurs are realizing this, and they have to jump on the train, or they'll miss out on revenue and customers. I think we're there. We had a peak and now it's going to stabilize."
(Part 2: Predicting and understanding the trends in 2022)